MAHA SHIVRATRI
February 21, 2020 All day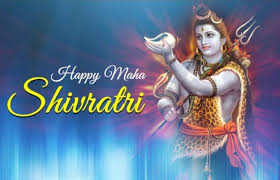 MAHA SHIVRATRI
Maha Shivaratri is celebrated in Tamil Nadu with great pomp and fanfare in the Annamalai temple located in Tiruvannamalai district. The special process of worship on this day is 'Girivalam'/Giri Pradakshina, a 14-kilometer bare foot walk around Lord Shiva's temple on top of the hill. A huge lamp of oil and camphor is lit on the hilltop at sunset - not to be confused with Karthigai Deepam.
The major Jyotirlinga Shiva temples of India, such as in Varanasi and Somanatha, are particularly frequented on Maha Shivaratri. They serve also as sites for fairs and special events.[18]
In Andhra and Telangana, Shivratri yatras are held at Mallayya gutta near Kambhalapalle, Gundlakamma Kona near Railway Koduru, Penchalakona, Bhairavakona, Uma Maheswaram amongst others. Special pujas are held at Pancharamas - Amararamam of Amaravati, Somaramam of Bhimavaram, Draksharamam, Kumararama of Samarlakota and Ksheerarama of Palakollu. The days immediately after Shivratri are celebrated as Brahmotsavaalu at Srisailam, one of 12 Jyotirlinga sites. Mahashivaratri utsavalu are held at the Rudreshwara Swamy's 1000 pillar temple in Warangal. Devotees throng for the special poojas at Srikalahasti, Mahanandi, Yaganti, Antarvedi, Kattamanchi, Pattiseema, Bhairavakona, Hanmakonda, Keesaragutta, Vemulawada, Panagal, Kolanupaka amongst others.
The Mandi fair is in the town of Mandi is particularly famous as a venue for Maha Shivaratri celebrations. It transforms the town as devotees pour in. It is believed that all gods and goddesses of the area, said to number more than 200, assemble here on the day of Maha Shivaratri. Mandi, located on the banks of Beas, is popularly known as the "Cathedral of Temples" and one of the oldest towns of Himachal Pradesh, with about 81 temples of different Gods and Goddesses on its periphery.[19][20][21]
In Kashmir Shaivism, Maha Shivaratri is celebrated by the Brahmins of Kashmir and is called, "Herath" in Kashmiri, a word derived from the Sanskrit word "Hararatri" the "Night of Hara" (another name of Shiva). Shivaratri, regarded as the most important festival of the community, for instance, is celebrated by them on trayodashi or the thirteenth of the dark half of the month of Phalguna (February–March) and not on chaturdashi or the fourteenth as in the rest of the country. The reason for it is that this long drawn festival that is celebrated for one full fortnight as an elaborate ritual is associated with the appearance of Bhairava (Shiva) as a jwala-linga or a linga of flame. It has been described as Bhairavotsava in Tantric texts as on this occasion Bhairava and Bhairavi, His Shakti or cosmic energy, are propitiated through Tantric worship. According to the legend associated with the origin of the worship, the linga appeared at pradoshakala or the dusk of early night as a blazing column of fire and dazzled Vatuka Bhairava and Rama (or Ramana) Bhairava, Mahadevi's mind-born sons, who approached it to discover its beginning or end but miserably failed. Exasperated and terrified they began to sing its praises and went to Mahadevi, who herself merged with the awe-inspiring jwala-linga. The Goddess blessed both Vatuka and Ramana that they would be worshipped by human beings and would receive their share of sacrificial offerings on that day and those who would worship them would have all their wishes fulfilled. As Vatuka Bhairava emerged from a pitcher full of water after Mahadevi cast a glance into it, fully armed with all his weapons (and so did Rama), he is represented by a pitcher full of water in which walnuts are kept for soaking and worshipped along with Shiva, Parvati, Kumara, Ganesha, their ganas or attendant deities, yoginis and kshetrapalas (guardians of the quarters) - all represented by clay images. The soaked walnuts are later distributed as naivedya. The ceremony is called 'vatuk barun' in Kashmiri, which means filling the pitcher of water representing the Vatuka Bhairava with walnuts and worshipping it.[citation needed]
Central India has a large number of Shaiva followers. The Mahakaleshwar Temple, Ujjain is one of the most venerated shrines consecrated to Shiva, where a large congregation of devotees gathers to offer prayers on the day of Maha Shivaratri. Tilwara Ghat in the city of Jabalpur and the Math Temple in the village of Jeonara, Seoni are two other places where the festival is celebrated with much religious fervour.[citation needed]
In Punjab, Shobha Yatras would be organised by various Hindu organisations in different cities. It is a grand festival for Punjabi Hindus.
In Gujarat, Maha Shivaratri mela is held at Junagadh where bathing in the Murghi kund is considered holy. According to myth, Lord Shiva himself comes to bath in theMurghi kund.
In West Bengal, Maha Shivaratri is observed devoutly by unmarried girls seeking a suitable husband, often visiting Tarakeswar.