August 12, 2019
August 13, 2019
August 14, 2019
August 15, 2019
All day: RAKSHABANDHAN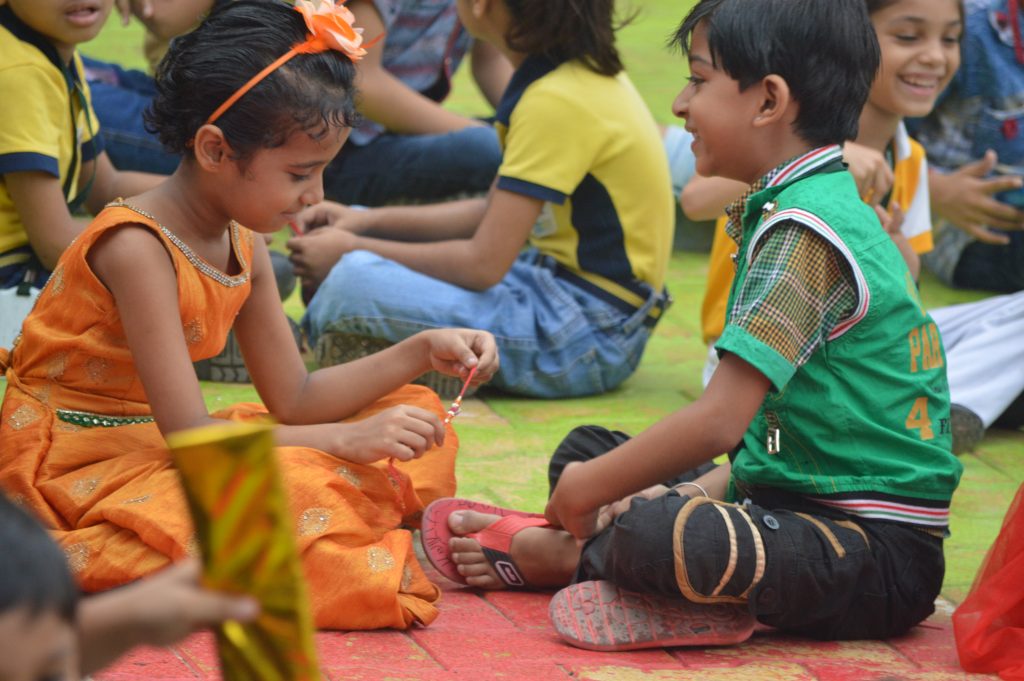 RAKSHABANDHAN
Raksha Bandhan, also Rakshabandhan, is a popular, traditionally Hindu, annual rite, or ceremony, which is central to a festival of the same name, celebrated in parts of the Indian subcontinent, and among people around the world influenced by culture from the Indian subcontinent. On this day, sisters of all ages tie a talisman, or amulet, called the rakhi, around the wrists of their brothers, symbolically protecting them, receiving a gift in return, and traditionally investing the brothers with a share of the responsibility of their potential care.
Raksha Bandhan is observed on the last day of the Hindu lunar calendar month of Shraavana, which typically falls in August. The expression "Raksha Bandhan," Sanskrit, literally, "the bond of protection, obligation, or care," is now principally applied to this ritual. Until the mid-20th-century, the expression was more commonly applied to a similar ritual, also held on the same day, with precedence in ancient Hindu texts, in which a domestic priest ties amulets, charms, or threads on the wrists of his patrons, or changes their sacred thread, and receives gifts of money; in some places, this is still the case. In contrast, the sister-brother festival, with origins in folk culture, had names which varied with location, with some rendered as Saluno,Silono, and Rakri. A ritual associated with Saluno included the sisters placing shoots of barley behind the ears of their brothers.
Of special significance to married women, Raksha Bandhan is rooted in the practice of territorial or village exogamy, in which a bride marries out of her natal village or town, and her parents, by custom, do not visit her in her married home. In rural north India, where village exogamy is strongly prevalent, large numbers of married Hindu women travel back to their parents' homes every year for the ceremony. Their brothers, who typically live with the parents or nearby, sometimes travel to their sisters' married home to escort them back. Many younger married women arrive a few weeks earlier at their natal homes and stay until the ceremony.The brothers serve as lifelong intermediaries between their sisters' married and parental homes, as well as potential stewards of their security.
In urban India, where families are increasingly nuclear, the festival has become more symbolic, but continues to be highly popular. The rituals associated with this festival have spread beyond their traditional regions and have been transformed through technology and migration,[14] the movies, social interaction, and promotion by politicized Hinduism, as well as by the nation state.
Among women and men who are not blood relatives, there is also a transformed tradition of voluntary kin relations, achieved through the tying of rakhi amulets, which have cut across caste and class lines, and Hindu and Muslim divisions. In some communities or contexts, other figures, such as a matriarch, or a person in authority, can be included in the ceremony in ritual acknowledgement of their benefaction.
August 16, 2019
August 17, 2019
All day: PATETI
Navroz or Pateti is the Parsi and it is celebrated on the eve of New Year of the Zoroastrian calendar. On pateti day the parsis visit the fire temple or agiary. The agiary is called as a fire temple because the sacred fire which was brought from Iran once upon a time is always kept burning in the temple by the high priest. The parsis worship Ahura Mazda, symbolised by fire. The parsis on this day, promise to live with good thoughts, use good words and perform the right actions.
The word pateti is derived from Pazend patet, meaning 'repentance'. The Zoroastrian tenets are based on the three ideals of good thoughts, good words and good deeds. Anything that is out of accord with this is considered a sin.It is natural for anyone to have committed a sin in the course of a year, even if only inadvertently. Pateti is the occasion to redeem oneself by offering patet, or the prayer of repentance, and prepare to greet the new year with a clean conscience.It is also a day of thanksgiving, to be grateful to God not just for the joys of life but also the sorrows.
Parsis wear their kusti or sacred vest. The men wear their traditional dress called dagli and the women dress up in their traditional and heirloom gara sarees. In the agiary a puja (jashan) is performed and sandalwood is offered to the fire.
At this time, the parsis clean their houses and decorate them. Torans and flowers are used to decorate the entrance of the house and beautiful rangoli patterns are made of birds, flowers, fish or any other design. On this day, parsi families go and visit other parsis and exchange gifts and sweets. On this auspicious occasion, special food like Patra ni macchi (fish wrapped in banana leaves), sali boti (meat with potato chips), rava and falooda is also prepared.
Parsis lay down certain auspicious items on the table on the day of New Year. It includes a sacred book, a picture of Zarathustra, mirror, candles, incense burner, fruits, flowers, a goldfish bowl, sugar, bread and some coins. These things symbolize prosperity and longevity for the family members.
A sweet Ravo (made from sugar, milk and suji) and vermicelli are the best breakfast for Navroz. After breakfast, whole family visits a nearby Fire Temple or Agiary. Priests perform a thanks giving prayer in the temple called Jashan and the congregation offers sandalwood to the Holy Fire with covered heads. They wish each other 'Sal Mubarak'.
Parsi Navroz lunch consists of pulav (with nuts and saffron), fish and other spicy non-vegetarian food. Cooking plain rice and moong dal is a must in Parsi community. Every visitor to the house is welcomed with sprinkle of rose water and offering faluda (rose flavored chilled vermicelli). Thus Navroz is celebrated very joyously.
August 18, 2019
August 19, 2019
August 20, 2019
August 21, 2019
August 22, 2019
August 23, 2019
All day: SITALA SATAM
SATAM
One story says Goddess Durga has incarnated as little Kātyāyanī — daughter of sage Katyayan — to destroy all arrogant evil demonic forces of the world, in her real form as Durga, she killed many demons that were sent by Kaalkeya.
A demon named Jwarasur, the demon of fever, started spreading incurable diseases to Katyayani's childhood friends, such as cholera, dysentery, measles, and smallpox. Katyayani cured the diseases of some of her friends. To relieve the world from all fevers and diseases, Katyayani assumed the form of Shitala Devi. Each of her four hands held a short broom, winnowing fan, jar of cooling water and a drinking cup. With her power, she cured all the children's diseases. Katyayani then requests her friend, Batuk to go out and confront the demon Jwarasur. A battle ensued between the young Batuk and demon Jwarasur. Jwarasur succeeds in defeating Batuk. Then, Batuk, lying dead, magically faded into dust. Jwarasur was shocked that Batuk had disappeared and wondered where he had gone, not realising that Batuk had, in fact, assumed the form of an awful male figure with three eyes and four arms holding a battle-axe, sword, trident and demon head. This figure was pitch-black in colour with flowing locks and eyes ablaze with fury and wore a tiger-skin and a garland of skulls - for Batuk had assumed the appearance of Lord Shiva's ferocious form, the terrible Bhairav. Bhairav reprimands Jwarasur and tells him that he is the servant of Goddess Durga (incarnate as Katyayani). A long discussion ensued but then converted into battle. Jwarasur created many demons from his powers but Bhairav managed to destroy all of them. Finally, Bhairav wrestled with Jwarasur and killed him with his trident.
There once was a demon named Jwarasur. He was named Jwarasur because he is the demon of fever. He went around and spread incurable fever to all the children of their parents wherever he went. His terrifying presence alarmed those who were around him and none of the children ever got relieved because of him. Mothers were crying and they wailed, and doctors couldn't find a cure for the children's incurable fever. Knowing that Jwarasur's reign of terror will keep spreading, Mahadev and Parvati decided to take action against him to stop him. Parvati decides that the power of her coolness will bring relief to all the children and their parents. Mahadev transformed himself into Bhairav and reaches the battlefield where he confronted Jwarasur to prevent him from going around and doing any more harm to children. Both of them indulged themselves in a great and huge wrestling match.
Meanwhile, Parvati on the other hand, transformed herself into Sheetala Devi. Sheetala Devi resembles a maiden, she was fair in complexion, wearing light and dark blue robes, wearing a minimal amount of ornaments on her limbs, three-eyed and is looking very youthful in appearance while representing an omnipotent Goddess, as being one among the incarnations of Durga. In her four hands, she held a bowl, a fan, a small broom, or a winnowing fan of some sort and she carries a pot of cold water, in which she uses to cure the diseased. She was mounted on the back of a donkey as her vehicle. Goddess Sheetala started her mission on providing relief to the children. Wherever Goddess Sheetala went around and over the world, with her most effective tool, her cold and cooling water brought relief to all children, of all shapes, sizes, colors, and ages. They were all completely restored to their good health, which brought instant relief to them and to joy to all the parents. Seeing Goddess Sheetala, everybody paid their homage to her and all the children thanked her for curing their incurable fever and purifying them.
Then, Goddess Sheetala makes an appearance in the battlefield where Bhairav and Jwarasur were fighting against each other. Sheetala Devi berates Jwarasur for his misdeeds towards young children as he spread fever to them. Bhairav also lets Jwarasur know that not only can Goddess Sheetala cure poxes, sores, ghouls, pustules and diseases, she is a goddess of sores, ghouls, and diseases and she can give them too. She is the cause as well as the cure. Finally, Sheetala Devi severely infected Jwarasur with an intense case of smallpox, thus putting an end to his reign of terror for once and for all. Mahadev liberates himself from Bhairav and Parvati frees herself from Goddess Sheetala Devi. They both returned home to Kailash.
August 24, 2019
All day: JANMASHTAMI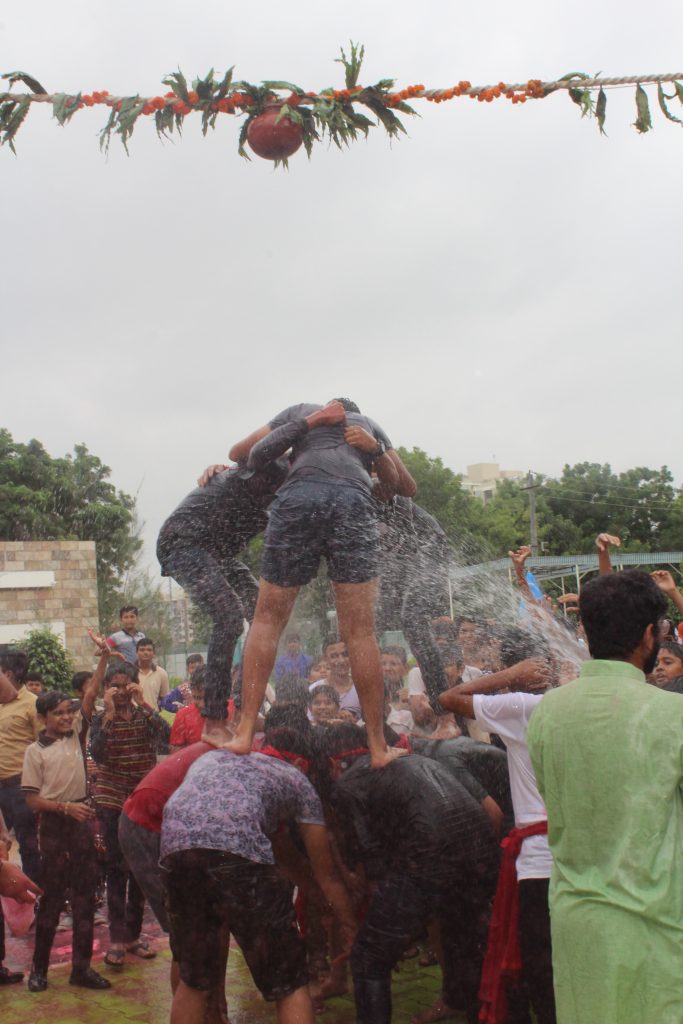 JANMASHTAMI
Krishna Janmashtami, also known simply as Janmashtami or Gokulashtami, is an annual Hindu festival that celebrates the birth of Krishna, the eighth avatar of Vishnu. It is observed according to Hindu luni-solar calendar, on the eighth day (Ashtami) of the Krishna Paksha (dark fortnight) in Shraavana of the lunar Hindu Calendar and Krishna Paksha in Bhadrapad of the lunisolar Hindu Calendar, which overlaps with August and September of the Gregorian calendar.
Best Reference Site For Krishna janmashtami. Visit https://janmashtami.in/
It is an important festival particularly to the Vaishnavism tradition of Hinduism. Dance-drama enactments of the life of Krishna according to the Bhagavata Purana (such as Rasa lila or Krishna Lila), devotional singing through the midnight when Krishna is believed to have been born, fasting (upavasa), a night vigil (jagarata), and a festival (mahotsava) on the following day are a part of the Janmashtami celebrations. It is celebrated particularly in Mathura and Brindavan, along with major Vaishnava and non-sectarian communities found in Manipur, Assam, West Bengal, Odisha, Madhya Pradesh, Rajasthan, Gujarat, Maharashtra, Karnataka, Kerala, Tamil Nadu, Andhra Pradesh and other regions.
Krishna Janmashtami is followed by the festival Nandotsav, which celebrates the occasion when Nanda Baba distributed gifts to the community in honour of the birth.
Significance
Krishna Carried Across the River
Krishna was the son of Devaki and Vasudeva and his birthday is celebrated by Hindus as Janmashtami, particularly those of the Vaishnavism tradition as he is considered the eighth avatar of Vishnu. Janmashtami is celebrated when Krishna is believed to have been born according to Hindu tradition, which is in Mathura, at midnight on the eighth day of Bhadrapada month (overlaps with August and 3 September in the Gregorian calendar).
Krishna was born in an era of chaos, persecution was rampant, freedoms were denied, evil was everywhere, and when there was a threat to his life by his uncle King Kansa. Immediately following the birth at Nathdwara, his father Vasudeva took Krishna across Yamuna, to foster parents in Gokul, named Nanda and Yashoda. [citation needed] This legend is celebrated on Janmashtami by people keeping fast, singing devotional songs of love for Krishna, and keeping a vigil into the night. After Krishna's midnight hour birth, statues of baby Krishna are washed and clothed, then placed in a cradle. The devotees then break their fast, by sharing food and sweets. Women draw tiny foot prints outside their house doors and kitchen, walking towards their house, a symbolism for Krishna's journey into their homes.
Celebrations
Some communities celebrate Krishna's legends such as him as a Makkan chor (butter thief).
Hindus celebrate Janmashtami by fasting, singing, praying together, preparing and sharing special food, night vigils and visiting Krishna or Vishnu temples. Major Krishna temples organize recitation of Bhagavata Purana and Bhagavad Gita. Many communities organize dance-drama events called Rasa Lila or Krishna Lila. The tradition of Rasa Lila is particularly popular in Mathura region, in northeastern states of India such as Manipur and Assam, and in parts of Rajasthan and Gujarat. It is acted out by numerous teams of amateur artists, cheered on by their local communities, and these drama-dance plays begin a few days before each Janmashtami.
August 25, 2019